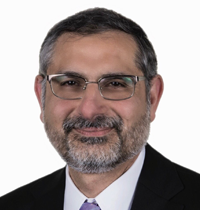 Assalamualaykum
Dear fellow Khyberians,
It is my honor and privilege to serve the alumni as its incoming President. I thank you all for your support and with your help and along with our new team members, Dr. Muhammad Taimoor Khan and Dr. Sami Qazi, look forward to making KMCAANA a stronger and more effective organization.
We, as physician graduates of Khyber Medical college Peshawar, practicing in North America have been given a unique opportunity and ability to serve both our adopted homeland and our motherland. Over the last half-century, our graduates have contributed immensely to scientific as well as social and cultural progress both in North America and at our alma mater, Khyber Medical College. Their work has paved the way for subsequent generations of graduates to reach for even more ambitious goals.
We will continue to expand and consolidate our activities in the educational, social and welfare arenas both here in North America and at Khyber Medical College and its affiliated medical institutions.
One of our main emphases this year is to expand our membership and connect with them more effectively. We believe our new website will go a long way in reaching out to our alumni in North America and it will become the go-to source for all our member's needs.
We will continue to ask for your support for several of our ongoing projects. These include need-based scholarships for medical students at Khyber Medical College, cleft palate repair, cornea transplant, and the Basic Life Support lab at KMC.
Our Young Physician's committee will be reaching out to you to help arrange student electives at your institution and to assist our new graduates acquire residency training positions all across North America.
We have also embarked on a very ambitious project of sending our volunteer intensivists to help run and train future intensivists at the newly built medical ICU at Lady Reading Hospital Peshawar in collaboration with the APPNA MERIT committee. We are exploring similar programs in Neurology and anesthesia as well.
Finally, we will have our first ever KMCAANA retreat in 2018, InshAllah. Stay tuned for more information.
Please do contact me or any member of the executive committee with your feedback, comments and suggestions or if you would like to serve on any of the standing committees.
Regards,
Rashid Hanif, MD, FACG
rhanif04@gmail.com
President KMCAANA